A Wolftour proposal is a passage on the shoulders of a wolf to discover Abruzzo
Wolftour discover Abruzzo is a Tour Operator and Travel Agency specialized in organizing tourist packages, excursions and activities in Abruzzo. We design and create "tailor-made" itineraries for schools, with activities aimed at improving and stimulating the creativity of children and immersing them in a world made up of nature, culture, sports and local traditions. The thematic itineraries will be agreed trying to offer students always new and engaging activities. Wolftour is able to offer, in addition to the "all-inclusive package", individual personalized services, reservations for visits to museums/palaces/residences, guided tours for thematic tours and transfers. We are present in the area and provide 360° assistance, guaranteeing an effective, professional and quality service. The Wolftour offices are located in Penne in C.da Collalto 1A, on Lake Penne
The itineraries and educational activities Practicing…you learn have been designed and created specifically for schools: the aim is to impress, through the combination of art, nature and traditions, an awareness and a rediscovery of the landscape assets, artistic assets and traditions of the Abruzzo area.
A range of proposals including guided tours and educational workshops that can be planned and implemented taking into account the training needs, as well as the emotional desires, of teachers, adults, individuals and groups. Among the educational activities it is possible to choose naturalistic and rural tradition itineraries, artistic, archaeological and archival workshops, connected to the cultural and environmental reality of the territory, without neglecting thematic insights and experiences across the border.
An opportunity to learn to savor the instant of our present.
In the Wolftour discover Abruzzo proposals there will be opportunities to live unique experiences, just as the territory you are going to discover is unique, our Abruzzo. Wolftour has selected extraordinary experiences and itineraries: enchanting villages and landscapes, millenary arts and traditions, excursions in parks that reserve unrepeatable encounters. Our highly qualified staff will involve you in the most diverse activities, to ensure that Abruzzo finds a place in the soul of every traveller.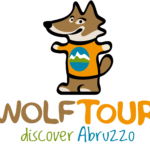 Wolfy, the mascot, will be your guide. W the Wolf!
The journey includes: Canoeing, Wellness
Day 1
• Canadian canoe excursion on Lake Penne. The departure is sheduled in the morning or in the afternoon, depending on the season and weather conditions. Reservations are recommended at least 48 hours before the exurision.
End of journey